Elton Gumbel Jr.'s 60th Birthday Celebration Special Benefit Performance for BFTAA and W.E.B. DuBois Learning Center
Saturday, October 18, 2014
7:30p.m.
Gem Theater 18thth & Vine KCMO
Featuring: Ground Level
The BFTAA 2014 Computer Olympics
October 25th. 2014
12:00PM to 4:00PM
A STEM competition for students K through 8
Presented by Time Warner Cable
Hosted by W.E.B. Dubois Learning Center
---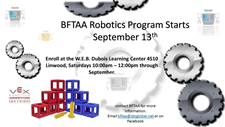 ---
THURSDAY: I ♥ Technology Video Contest!
Final public voting online all day Feb. 14th !
---
Youth Technology Fair 2014
---
---
Games!
Bridge The Gap
As the Black Community grows in size and influence, it is vital for this group and the nation that the gap in technological empowerment between Blacks and the U.S. mainstream be closed.

BFTAA Email List
Subscribe to our email list to receive